There is a better way than buy-and-hope...
IRA and 401(k) investors are told to just buy and hold or essentially to take whatever the market gives them. However, it is an unfortunate reality that the history of the S&P 500 from 1929 to 2007 indicates that:
on average...a new bear market starts every 5 years
on average...bear markets lose 38%
on average...it takes 3 1/2 years to return to breakeven
Your retirement account cannot afford a repeat of 2008. My401kPro can help that from happening again. See how we helped our subscribers substantially reduce risk in that year. See what we mean by "a better way."
---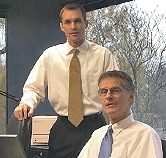 Over 35 Years of Success
With My401kPro, you will have the benefit our advisors' wealth of experience and investment success working for your retirement plan.