Fund Rankings:
What to Invest In.
Customized Fund Ranking Table
At times, different areas of the market are performing well while others are doing little or nothing. My401kPro's revolutionary Fund Ranking Model identifies the funds in your plan that currently have the potential for the best future performance.

How has it worked?**
This chart displays the outstanding results of My401kPro's FUND RANKING MODEL on a diverse group of mutual funds from 1999 to 2005. As you can see, the top ranked funds in My401kPro's rankings significantly out-performed the lower ranked funds.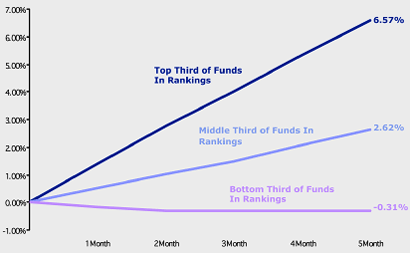 * The Market Indicator has produced these results over a relatively long period of time. However, there can be no guaranty that future market conditions will allow the model that is responsible for producing the direction of the Market Indicator to continue to achieve similar performance.
** The testing that resulted in the returns shown above measured the performance for every 1 month, 2 month, 3 month, 4 month and 5 month period commencing on every single day the stock market was opened during the period of the study. Although the testing for this time period involved was exhaustive and took place during periods of upward trending, downward trending and sideways trending stock markets, future market environments may be different and as a result, similar results can not be guarantied.