Take control of your retirement investments today!
Big losses are not by themselves what derail investment programs. Very often, it is the psychological damage to the investor that is the culprit. For example, in 2008 and 2009, many investors experienced financial devastation but only after experiencing those losses, did they seek the haven of money market funds that were yielding record low returns. The tragedy of incurring such big losses was bad enough but swearing off the market at the wrong time only compounded the problem.
Unfortunately human nature is the driver of investing for the great majority of people. In particular, fear and greed are the motivations for most investment moves and as much as one might agree with that intellectually, it is extremely difficult to avoid reacting to those impulses. Our objective is to help you avoid the emotional reactions that occur at the major turning points in the market which are the junctures where the pressure is the highest to do exactly the opposite of what should be done. We do that by using proprietary, time tested investment models to guide you to invest when risk is low and to exit when risk is high. (When to Buy and When to Sell)
Importantly, our studies suggest that we will be in an environment now for several years during which the investment markets will take wide swings but in the final analysis will make very little if any headway. As in the 1930's and 1970's, the stock market will be a very frustrating time for investors as human nature will continue to provide the propensity to enter it near highs and exit it near lows. We understand that although you may now think you will avoid those pitfalls and we hope you do, the historical record suggests otherwise. We think we can help.
2008 -2009 - My401kPro substantially reduced the risk of incurring big losses
Try it for 3 months for only $49.99
Our investment strategy identifies those times when market risk is high and lets you know so you can avoid big losses instead of "riding it out". In the following chart, you can see how our recommended range of investment levels (Equity Allocation Target) helped our subscribers substantially reduce their risk in 2008 if they followed our stated guidance.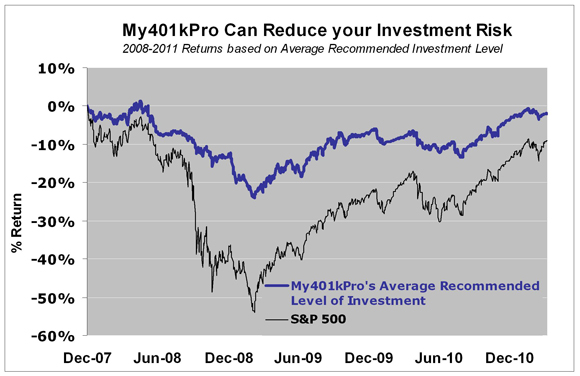 Everyone investing for retirement should have the same investment objectives - make money and avoid losing money. Despite what some brokers and advisors say, that is really the bottom line. Unlike most investment sources, My401kPro can help you accomplish both of these objectives. Do NOT simply buy and hope. Your retirement future can't afford it.
** If you are a small business owner or in charge of benefits at your firm and you are interested in providing your employees with effective investment guidance, or at least making them aware of it, please contact us. We would be happy to discuss My401kPro's special pricing for businesses and how we can provide this most important benefit to your employees. **
Past performance may not be indicative of future results. Therefore, no prospective or existing subscriber should assume that future performance of any specific investment or investment strategy, including the investments and/or investment strategies made reference to directly or indirectly by My401kPro in its web site or print materials, or indirectly via a link to an unaffiliated third party web site, will be profitable or equal any historical performance level(s).