How Market Indicator Has Performed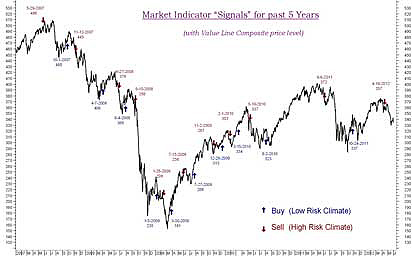 Though the Market Indicator has been utilized in real time since the late 1970s, for presentation sake, this chart displays 5 years of "buy" and "sell" signals generated by the Market Indicator, along with the Value Line Geometric Composite. We use the Value Line to represent the stock market as it is a broad (approximately 1600-1700 stocks), unweighted stock average and is thought by many to best approximate the portfolio of stocks that an individual investor might own.
As you can observe, a disciplined adherence to this model would most often have reduced the risk of loss while allowing one to capture much of the growth available from the broad stock market. Specifically, it has been particularly effective in capturing the major moves in the market despite being more challenged in flat and shorter whipsaw type environments. (During flat periods the Mutual Fund Ranking Table can prove valuable in detecting areas that are performing the best relative to the overall flat market.)
We do not necessarily advocate getting completely in and out of one's investments upon the occasion of each buy and sell signal. However, increasing and decreasing exposure and ensuring that one's portfolio is primarily invested in the higher ranked funds according to our Mutual Fund Ranking model should considerably enhance long-term performance above and beyond the typical investment returns of 401(k) participants. As stated elsewhere, the signals will not always be pinpoint accurate. However, it is our experience that a consistently disciplined adherence to the guidance provided will reduce the risk of loss and improve performance over the long term.
It should be noted that past performance of this model is no guaranty of its future performance. In addition, a correlation between the performance of this model using the Value Line Composite and the performance using the particular mutual fund options available in any 401(k) retirement plan can not necessarily be made.